Feb 19, 20
22
Connected Software is shutting down on Sep 30, 2022. See the
announcement
.
Epicenter Server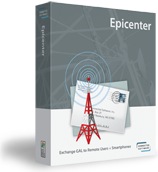 Sync your Exchange GAL with
iPhone/iPad
Android

Set up Epicenter Server in ten minutes and forget about it:
Supports Office 365, on-premises and Hosted Exchange.
On-site operation.
Nothing to install on phones.
All phone synchronization uses Exchange ActiveSync.
The Problem: Your smartphones and tablets easily sync with a user's Outlook Contacts folder, but there is no built-in way to sync the GAL (Global Address List) to employees' phones, or to sync a Public Folder containing contacts. This means that address book entries saved by users rapidly become out of date.
The Solution: Epicenter Server gives your users their own local copy of the corporate address book. Once the contacts are in users' mailbox in Outlook, their smartphones will synchronize the contacts. Additions, deletions and changes are automatically applied to keep contacts up to date. No additional software is required on the phones or tablets.
Click here
if you are having trouble viewing the video
How It Works: On a scheduled basis, Epicenter Server synchronizes a copy of the GAL to a contacts folder in each user's mailbox. Then ActiveSync synchronizes those changes to each user's device. See the screenshots.
You install Epicenter Server on a single computer. During installation, you configure Epicenter Server by telling it which address book to distribute, who should receive the address book, and how often to send updates. The address book could be your Exchange GAL, an Exchange address list, or an Exchange Public Folder.
Once you've configured Epicenter Server, updates are sent automatically on your given schedule. Users wirelessly receive updates, which appear in the address book on their iPhone or Android. No user involvement is required.
Features
Requires no additional software on the phone or tablet.
No user involvement means no training and no deployment problems.
Seamlessly integrates with Exchange Server.
Send different address lists to different users.
Distributes all address book fields, including postal addresses, phone numbers, birthdays and anniversaries, and many other fields.
Ten-minute server installation with wizard-based setup.
Fast incremental updates.
Requirements
Epicenter Server requires Exchange 2010 to Exchange 2016 on the server and Outlook 2010 to Outlook 2016 on the system where Epicenter Server is running. End users can use any client supporting Microsoft Exchange, including smartphones, tablets, Outlook, and Outlook Web Access (OWA).
Epicenter Server supports the following sources for the address book to distribute:
| Product | Supported |
| --- | --- |
| Exchange Server GAL | ✔ |
| Exchange Server Address List | ✔ |
| Exchange Server Dynamic Address List | ✔ |
| Exchange Server Public Contacts Folder | ✔ |
| Personal Contacts Folder | ✔ |
| SharePoint lists (through Outlook) | ✔ |
Licensing
One license is required for each user/mailbox that receives updates. The license for the server is included with the mailbox licenses.
If you are using Exchange Server, you only need licenses for users who will receive updates. Epicenter licensing is not tied to your Exchange Client Access Licenses (CAL).
FAQs
Where's the manual?

The manual is available at this link.

Does Epicenter run as a service?

Epicenter runs updates under the Task Scheduler, which is itself a service. Once you've defined the update schedule for a task in Epicenter, you can close Epicenter and log out and updates will still be distributed.

Where does Epicenter put the contacts?

Epicenter puts contacts into whatever folder name you choose. This folder will be created in Outlook underneath the default Contacts folder. You can also put the contacts in the default Contacts folder, but this is discouraged unless you have Android or Windows Mobile users because it can be confusing to end users.

Does Epicenter support Office 365?

Yes, definitely. See the chapter on Hosted Exchange in the manual.

Can users make changes to contacts distributed by Epicenter?

Users can make changes to their personal copy of each contact. For this to work, you must enable Reserved Properties in Epicenter Server.

Do contacts sync in both directions?

No. Changes made by users do not sync back to the GAL.

Can I distribute contacts kept in Public Folders?

Yes, just choose Public Folders as the source address book.

Can I distribute contacts kept in SharePoint lists?

Yes, by syncing Outlook to the Sharepoint contacts list and then selecting Outlook as the source.

Where do I install Epicenter?

Epicenter should be installed on a workstation or virtual machine. It must not be installed on the same computer as Exchange or BES unless it's in a separate virtual machine. Epicenter's resource requirements are minimal and it will run on any computer with a Pentium IV or later.

How soon will updates appear?

Epicenter relies on Exchange Server for all wireless updates, so update performance is not related to Epicenter. However, our testing shows that the initial update can take half an hour or more to appear on the phones and subsequent updates take a few minutes to appear.

Will someone have to go around to every client computer or smartphone and install the Epicenter software?

No. It is not necessary to install software on end-user computers or smartphones because they have support for Exchange ActiveSync built in.

Does my Epicenter Server license expire?

Your license does not expire, but you must have an active subscription to download the latest updates. You can purchase an update by opening the Help menu in Epicenter Server and selecting Extend Subscription.

Is technical support available if I have a question?

Yes. There is a knowledgebase of common problems or you can submit a support request. Technical support is included for one year from your date of purchase and continues as long as an active subscription is maintained.
Price
Product Description
Price

Epicenter


Send your Exchange GAL to iPhone®/iPad® and Android™ devices.

Connected Software is no longer accepting orders.
Customer Service
Technical Support